September 04 2021 - Lead Foot Luau - Bob Marley Tribute Concert, Hawaiian Festival, Car Show
Lead Foot Luau happening Saturday Sept. 4th. (Labor Day Weekend), Bob Marley Tribute Concert, Hawaiian Dancers & Food, Car Show and more!
Aloha! Cruise on over to the Lead Foot Luau Festival happening on Saturday Night, Sept. 4th from 6-11pm.
Featuring Live Performances with a Bob Marley Tribute Concert that includes one of the original members of the Wailers "Yvad". Along with the Waikiki Dancers & Musicians, Tropical Bird Show, Fire Dancer and more Hawaiian treats!
Judged Car Show, Burnouts, Drifting and fun for the whole family.
Tickets are limited so get yours today! For Vendor & Sponsorship Information please call 844-532-3366.
www.leadfootcity.com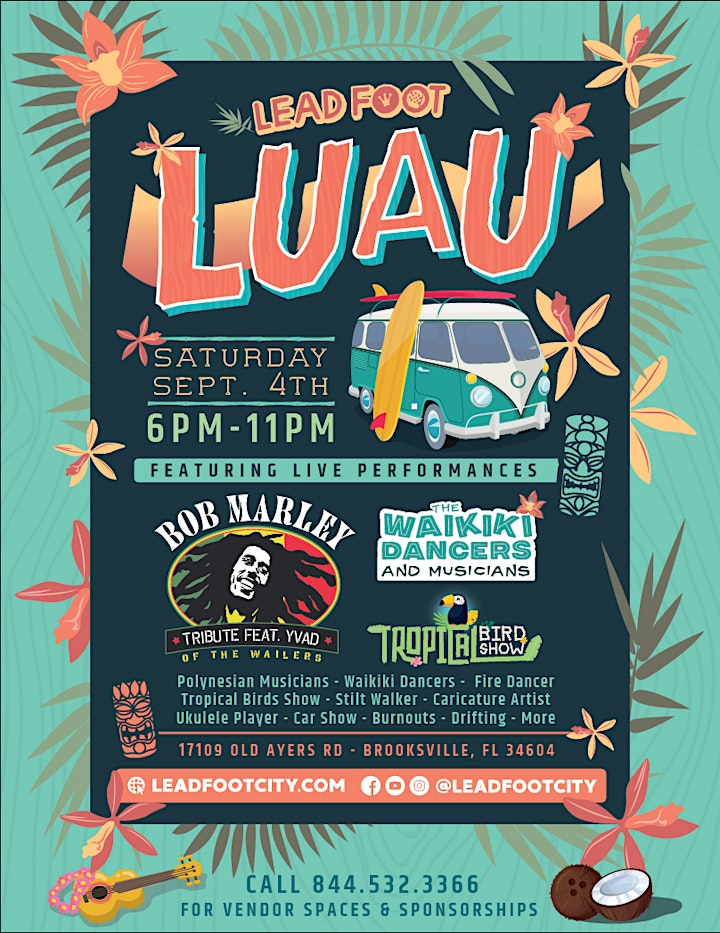 Event is on September 04 2021
CLICK HERE FOR MORE EVENT DETAILS & TICKETING
, You may also pay at the gate on the day of the event.
For more information call 844-532-3366
---